Double Star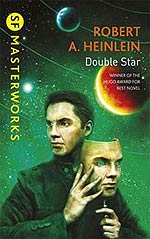 Double Star
justifiedsinner
4/25/2012


Just as there was Slim Elvis and Fat Elvis, with everybody except the diehard fanatics preferring the former, so there was Slim Heinlein and Fat Heinlein with the critical assessment being the same.
The plot is a familiar one: an actor is hired to impersonate a politician who has been kidnapped. Along the way he must overcome his prejudices and dislike of the man finding him eventually noble and heroic. When the politician is killed he assumes the role for life.
The plot moves swiftly and with humor and without the rants and digressions of later Heinlein books. A quick and enjoyable read. Heinlein at his best.