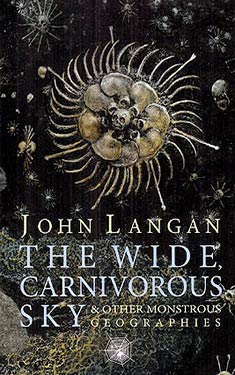 The Wide, Carnivorous Sky: and Other Monstrous Geographies
Synopsis
"I want to be like John Langan when I grow up, okay? He blends meticulously crafted traditional narratives with joyous genre-bending and narrative rule-breaking. His stories are fiercely smart, timely, timeless, heartbreaking, and of course, flat-out scary. Langan fearlessly commits to his monsters, his characters, his readers, to his vision of the horror story and the messed-up, broken, frightening world we inhabit. Wide, Carnivorous Sky, indeed."-Paul Tremblay, author of The Little Sleep and Swallowing a Donkey's Eye.
John Langan has, in the last few years, established himself as one of the leading voices in contemporary horror literature. Gifted with a supple and mellifluous prose style, an imagination that can conjure up clutching terrors with seeming effortlessness, and a thorough knowledge of the rich heritage of weird fiction, Langan has already garnered his share of accolades. This new collection of nine substantial stories includes such masterworks as "Technicolor," an ingenious riff on Poe's "Masque of the Red Death"; "How the Day Runs Down," a gripping tale of the undead; and "The Shallows," a powerful tale of the Cthulhu Mythos. The capstone to the collection is a previously unpublished novella of supernatural terror, "Mother of Stone." With an introduction by Jeffrey Ford and an afterword by Laird Barron.
Table of Contents:
Introduction: Reading Langan, by Jeffrey Ford
Kids
How the Day Runs Down
The Wide, Carnivorous Sky
City of the Dog
The Shallows
The Revel
June, 1987. Hitchhiking. Mr. Norris.
Mother of Stone
Story Notes
Afterword: Note Found in a Glenfiddich Bottle, by Laird Barron
Acknowledgments
Excerpt
No excerpt currently exists for this novel. Be the first to submit one!

Submit an Excerpt
Reviews
Images
No alternate cover images currently exist for this novel. Be the first to submit one!