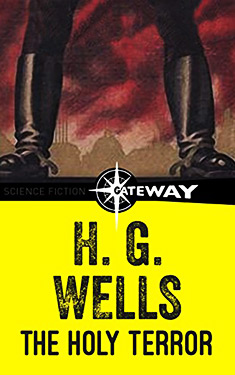 Synopsis
The Holy Terror is a 1939 work by H. G. Wells that is in part an analysis of fascism and in part a utopian novel. Which presents itself as a biography of a character Rudolf "Rud" Whitlow, who is born with such an aggressive temperament that he is referred to as the "Holy Terror".
Rud eventually gets involved in socialist activism, and with a group strategizing for world revolution. They are looking to stage a coup. The group contains a character inspired by Oswald Mosley. The revolution fails, revealing the cowardice underlying Rud's aggressiveness.
Excerpt
The baby grew into an incessantly active, bilious little boy with a large white face, a slight scowl and the devil of a temper. He was a natural born kicker; he went straight for the shins. He was also a wrist-twister, but he bit very little. On the other hand he was a great smasher of the cherished possessions of those who annoyed him, and particularly the possessions of his brothers Samuel and Alf. He seemed to have been born with the idea of "serving people out." He wept very little, but when he wept he howled aloud, and jabbered wild abuse, threats and recriminations through the wet torrent of his howling. The neighbours heard him. Old gentlemen stopped and turned round to look at him in the street.
By the time he was seven or eight quite a number of people had asked: "What can you do with a boy like that?" Nobody had found a satisfactory solution to the problem. Many suggestions were made, from "Knock his little block off," to "Give him more love."
Nowadays many people deny that the unpleasantness of unpleasant children comes naturally. They say they are love-starved. His Aunt Julia, for example, did. "You think so," said his mother, and did not argue about it, because at times she was very doubtful indeed whether she did love him. She was for a mother unusually clear-headed. She was affectionate but she was critical. And what to do with him she did not know.
Copyright © 1939 by H. G. Wells
Reviews
There are currently no reviews for this novel. Be the first to submit one! You must be logged in to submit a review in the BookTrackr section above.
Images
No alternate cover images currently exist for this novel. Be the first to submit one!