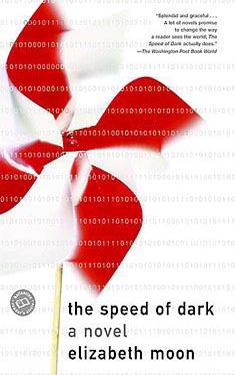 Synopsis
In the near future, disease will be a condition of the past. Most genetic defects will be removed at birth; the remaining during infancy. Unfortunately, there will be a generation left behind. For members of that missed generation, small advances will be made. Through various programs, they will be taught to get along in the world despite their differences. They will be made active and contributing members of society. But they will never be normal.
Lou Arrendale is a member of that lost generation, born at the wrong time to reap the awards of medical science. Part of a small group of high-functioning autistic adults, he has a steady job with a pharmaceutical company, a car, friends, and a passion for fencing. Aside from his annual visits to his counselor, he lives a low-key, independent life. He has learned to shake hands and make eye contact. He has taught himself to use "please" and "thank you" and other conventions of conversation because he knows it makes others comfortable. He does his best to be as normal as possible and not to draw attention to himself.
But then his quiet life comes under attack. It starts with an experimental treatment that will reverse the effects of autism in adults. With this treatment Lou would think and act and be just like everyone else. But if he was suddenly free of autism, would he still be himself? Would he still love the same classical music–with its complications and resolutions? Would he still see the same colors and patterns in the world–shades and hues that others cannot see? Most importantly, would he still love Marjory, a woman who may never be able to reciprocate his feelings? Would it be easier for her to return the love of a "normal"?
There are intense pressures coming from the world around him–including an angry supervisor who wants to cut costs by sacrificing the supports necessary to employ autistic workers. Perhaps even more disturbing are the barrage of questions within himself. For Lou must decide if he should submit to a surgery that might completely change the way he views the world... and the very essence of who he is.
Thoughtful, provocative, poignant, unforgettable, The Speed of Dark is a gripping exploration into the mind of an autistic person as he struggles with profound questions of humanity and matters of the heart.
Excerpt
Monk stood on the embankment staring at the lights reflected on the misty waters of the Thames as dusk settled over the city. He had solved his latest case to the satisfaction of his client, and twenty guineas were sitting comfortably in his pocket. Behind him, coaches and carriages moved through the spring evening and the sound of laughter punctuated the clip of hooves and jingle of harness.
It was too far from here to Fitzroy Street for Monk to walk home, and a hansom was an unnecessary expense. The omnibus would do very well. There was no hurry because Hester would not be there. This was one of the nights when she worked at the house in Coldbath Square which had been set up with Callandra Daviot's money in order to give medical help to women of the streets who had been injured or become ill, mostly in the course of their trade.
He was proud of the work Hester did, but he missed her company in the evenings. It startled him how deeply, since his marriage, he had been accustomed to sharing his thoughts with her, to her laughter, her ideas, or simply to looking across the room and seeing her there. There was a warmth in the house that was missing when she was gone.
How unlike his old self that was! In the past he would not have shared the core inside him with anyone, nor allowed someone to become important enough to him that her presence could make or mar his life. He was surprised how much he preferred the man he had become.
Thinking of medical help, and Callandra's assistance, turned his mind to the last murder he had dealt with, and to Kristian Beck, whose life had been torn apart by it. Beck had discovered things about himself and his wife which had overturned his beliefs, even the foundations of his own identity. His entire heritage had not been what he had assumed, nor his culture, his faith, or the core of who he was.
Monk understood in a unique way Beck's shock and the numbing confusion that had gripped him. A coaching accident nearly seven years before had robbed him of his own memory before that, and forced on him the need to re-create his identity. He had deduced much about himself from unarguable evidence, and while some things were admirable, there were too many that displeased him and lay shadowed across the yet unknown.
Even in his present happiness the vast spaces of ignorance troubled him from time to time. Kristian's shattering discoveries had woken new doubts in Monk, and a painful awareness that he knew almost nothing of his roots or the people and the beliefs that had cradled him.
He was Northumbrian, from a small seaboard town where his sister, Beth, still lived. He had lost touch with her, which was his own fault, partly out of fear of what she would tell him of himself, partly because he simply felt alienated from a past he could no longer recall. He felt no bond with that life or its cares.
Beth could have told him about his parents and probably his grandparents too. But he had not asked.
Should he try now, when it mattered more urgently, to build a bridge back to her so he could learn? Or might he find, like Kristian, that his heritage was nothing like his present self and he was cut off from his own people? He might find, as Kristian had, that their beliefs and their morality cut against the grain of his own.
For Kristian, the past he believed and that had given him identity had been wrenched out of his hands, shown to be a fabrication created out of the will to survive, easy to understand but not to admire, and bitterly hard to own.
If Monk were at last to know himself as most people do automatically--the religious ties, the allegiances, the family loves and hates--might he too discover a stranger inside his skin, and one he could not like? He turned away from the river and walked along the footpath toward the nearest place where he could cross the street through the traffic and catch the omnibus home.
Perhaps he would write to Beth again, but not yet. He needed to know more. Kristian's experience weighed on him and would not let him rest. But he was also afraid, because the possibilities were too many, and too disturbing, and what he had created was too dear to risk.
Copyright © 2003 by Elizabeth Moon
Reviews
Images
No alternate cover images currently exist for this novel. Be the first to submit one!