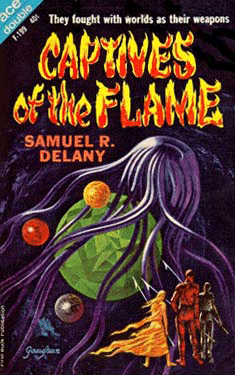 Captives of the Flame / The Psionic Menace
Synopsis
Captives of the Flame
SAMUEL R. DELANY considers Captives of the Flame to be the first of a trilogy dealing with the same epoch and characters. It is, however, his second published novel, his first being The Jewels of Aptor, Ace Book F-173, which has received considerable acclaim.
A young man, resident in New York City, Delany is a prolific and talented writer, whose work in poetry and prose have won him many awards. Asked for comment on his literary ambitions, he preferred to quote one of the characters from one of his works:
"I wanted to wield together a prose luminous as twenty sets of headlights flung down a night road; I wanted my words tinged with the green of mercury vapor street lamps seen through a shaling of oak leaves in the park past midnight. I needed phrases that would break open like thunder, or leave a brush as gentle as willow boughs passed in a dark room.... The finest writing is always the finest delineation of surfaces."
The Psionic Menace
MUST THE UNIVERSE DIE WITH THEM?
The Starfolk, arrogant masters of vast stretches of the cosmos beyond the Earth's sphere of influence, were determined to complete the extermination of the mind-reading mutants of Regnier's planet.
But to the mutants themselves, the terror of the Starfolk was nothing compared to the greater dread that gripped their spirits - the obsession that the universe itself was doomed. This obsession ripped into their minds, overwhelmed them, and plunged them into horrifying hysteria.
The message of room reached the ears of the Starfolk themselves, forcing the to a fateful decision. They would allow an Earthman, archeologist Philip Gascon, to visit Regnier in an attempt to unravel its secrets. What he found would either contain the key to the ultimate destiny of the universe - or the date of the doomsday.
Excerpt
No excerpt currently exists for this novel.
Reviews
Images
No alternate cover images currently exist for this novel.