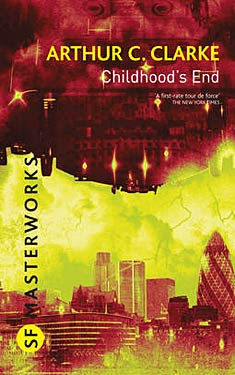 Film & Television Adaptations
Synopsis
When the silent spacecraft arrived and took the light from the world, no one knew what to expect. But, although the Overlords kept themselves hidden from man, they had come to unite a warring world and to offer an end to poverty and crime.
When they finally showed themselves it was a shock, but one that humankind could now cope with, and an era of peace, prosperity and endless leisure began.
But the children of this utopia dream strange dreams of distant suns and alien planets, and begin to evolve into something incomprehensible to their parents, and soon they will be ready to join the Overmind...and, in a grand and thrilling metaphysical climax, leave the Earth behind.
Excerpt
The volcano that had reared Tratua up from the Pacific depths had been sleeping now for half a million years. Yet in a little while, thought Reinhold, the island would be bathed with fires fiercer than any that had attended its birth. He glanced towards the launching site, and his gaze climbed the pyramid of scaffolding that still surrounded the "Columbus." Two hundred feet above the ground, the ship's prow was catching the last rays of the descending sun. This was one of the last nights it would ever know: soon it would be floating in the eternal sunshine of space.
It was quiet here beneath the palms, high up on the rocky spine of the island. The only sound from the Project was the occasional yammering of an air compressor or the faint shout of a workman. Reinhold had grown fond of these clustered palms; almost every evening he had come here to survey his little empire. It saddened him to think that they would be blasted to atoms when the "Columbus" rose in flame and fury to the stars.
A mile beyond the reef, the "James Forrestal" had switched on her searchlights and was sweeping the dark waters. The sun had now vanished completely, and the swift tropical night was racing in from the east. Reinhold wondered, a little sardonically, if the carrier expected to find Russian submarines so close to shore.
The thought of Russia turned his mind, as it always did, to Konrad and that morning in the cataclysmic spring of 1945. More than thirty years had passed, but the memory of those last days when the Reich was crumbling beneath the waves from the East and from the West had never faded. He could see Konrad's tired blue eyes, and the golden stubble on his chin, as they shook hands and parted in that ruined Prussian village, while the refugees streamed endlessly past. It was a parting that symbolized everything that had since happened to the world--the cleavage between East and West. For Konrad chose the road to Moscow. Reinhold had thought him a fool, but now he was not so sure.
For thirty years he had assumed that Konrad was dead. It was only a week ago that Colonel Sandmeyer, of Technical Intelligence, had given him the news. He didn't like Sandmeyer, and he was sure the feeling was mutual. But neither let that interfere with business.
"Mr. Hoffman," the Colonel had begun, in his best official manner, "I've just had some alarming information from Washington. It's top secret, of course, but we've decided to break it to the engineering staff so that they'll realize the necessity for speed." He paused for effect, but the gesture was wasted on Reinhold. Somehow, he already knew what was coming.
"The Russians are nearly level with us. They've got some kind of atomic drive--it may even be more efficient than ours, and they're building a ship on the shores of Lake Baikal. We don't know how far they've got, but Intelligence believes it may be launched this year. You know what that means."
Yes, thought Reinhold, I know. The race is on--and we may not win it.
"Do you know who's running their team?" he had asked, not really expecting an answer. To his surprise, Colonel Sandmeyer had pushed across a typewritten sheet and there at its head was the name: Konrad Schneider.
"You knew a lot of these men at Peenemünde, didn't you?" said the Colonel. "That may give us some insight into their methods. I'd like you to let me have notes on as many of them as you can--their specialties, the bright ideas they had, and so on. I know it's asking a lot after all this time--but see what you can do."
"Konrad Schneider is the only one who matters," Reinhold had answered. "He was brilliant--the others are just competent engineers. Heaven only knows what he's done in thirty years. Remember--he's probably seen all our results and we haven't seen any of his. That gives him a decided advantage."
He hadn't meant this as a criticism of Intelligence, but for a moment it seemed as if Sandmeyer was going to be offended. Then the Colonel shrugged his shoulders.
"It works both ways--you've told me that yourself. Our free exchange of information means swifter progress, even if we do give away a few secrets. The Russian research departments probably don't know what their own people are doing half the time. We'll show them that Democracy can get to the moon first."
Democracy--Nuts! thought Reinhold, but knew better than to say it. One Konrad Schneider was worth a million names on an electoral roll. And what had Konrad done by this time, with all the resources of the U.S.S.R. behind him? Perhaps, even now, his ship was already outward bound from Earth....
The sun which had deserted Taratua was still high above Lake Baikal when Konrad Schneider and the Assistant Commissar for Nuclear Science walked slowly back from the motor test rig. Their ears were still throbbing painfully, though the last thunderous echoes had died out across the lake ten minutes before.
"Why the long face?" asked Grigorievitch suddenly. "You should be happy now. In another month we'll be on our way, and the Yankees will be choking themselves with rage."
"You're an optimist, as usual," said Schneider. "Even though the motor works, it's not as easy as that. True, I can't see any serious obstacles now--but I'm worried about the reports from Taratua. I've told you how good Hoffmann is, and he's got billions of dollars behind him. Those photographs of his ship aren't very clear, but it looks as if it's not far from completion. And we know he tested his motor five weeks ago."
"Don't worry," laughed Grigorievitch. "They're the ones who are going to have the big surprise. Remember--they don't know a thing about us."
Schneider wondered if that was true, but decided it was much safer to express no doubts. That might start Grigorievitch's mind exploring far too many torturous channels, and if there had been a leak, he would find it hard enough to clear himself.
The guard saluted as he re-entered the administration building. There were nearly as many soldiers here, he thought grimly, as technicians. But that was how the Russians did things, and as long as they kept out of his way he had no complaints. On the whole--with exasperating exceptions--events had turned out very much as he had hoped. Only the future could tell if he or Reinhold had made the better choice.
He was already at work on his final report when the sound of shouting voices disturbed him. For a moment he sat motionless at his desk, wondering what conceivable event could have disturbed the rigid discipline of the camp. Then he walked to the window--and for the first time in his life he knew despair.
The stars were all around him as Reinhold descended the little hill. Out at sea, the "Forrestal" was still sweeping the water with her fingers of light, while further along the beach the scaffolding round the "Columbus" had transformed itself into an illuminated Christmas tree. Only the projecting prow of the ship lay like a dark shadow across the stars.
A radio was blaring dance music from the living quarters, and unconsciously Reinhold's feet accelerated to the rhythm. He had almost reached the narrow road along the edge of the sands when some premonition, some half-glimpsed movement, made him stop. Puzzled, he glanced from land to sea and back again: it was some little time before he thought of looking at the sky.
Then Reinhold Hoffmann knew, as did Konrad Schneider at this same moment, that he had lost his race. And he knew that he had lost it, not by the few weeks or months that he had feared, but by millennia. The huge and silent shadows driving across the stars, more miles above his head than he dared to guess, were as far beyond his little "Columbus" as it surpassed the log canoes of paleolithic man. For a moment that seemed to last forever, Reinhold watched, as all the world was watching, while the great ships descended in their overwhelming majesty--until at last he could hear the faint scream of their passage through the thin air of the stratosphere.
He felt no regrets as the work of a lifetime was swept away. He had labored to take man to the stars, and, in the moment of success, the stars--the aloof, indifferent stars--had come to him. This was the moment when history held its breath, and the present sheared asunder from the past as an iceberg splits from its frozen, parent cliffs, and goes sailing out to sea in lonely pride. All that the past ages had achieved was as nothing now: only one thought echoed and re-echoed through Reinhold's brain:
The human race was no longer alone.
Copyright © 1953 by Arthur C. Clarke
Reviews
Images