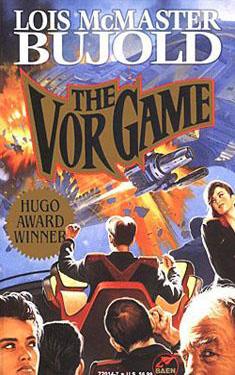 Synopsis
Miles Vorkosigan graduates from the Barrayaran Military Academy with high expectations of ship command but is disappointed with an assignment as meteorologist to an arctic training camp. There he narrowly averts a massacre between the trigger-happy base commander and mutinous recruits. Reassigned to investigate a suspicious military buildup near a wormhole nexus, he revives his undercover persona as mercenary Admiral Miles Naismith to negotiate between competing powers for control of the wormhole, to rescue the Emperor of Barrayar, and to watch his back for the arctic base commander seeking bloody vengeance.
Excerpt
Chapter 3
Floating in the heat tank in the base infirmary, Miles considered crucifixion for the two saboteurs from the motor pool from several angles. Such as upside-down. Dangling over the sea at low altitude from an anti-grav sled. Better still, staked out face-up in a bog in a blizzard.... But by the time his body had warmed up, and the corpsman had pulled him out of the tank to dry, be reexamined, and eat a supervised meal, his head had cooled.
It hadn't been an assassination attempt. And therefore, not a matter he was compelled to turn over to Simon Illyan, dread Chief of Imperial Security and Miles's father's left-hand man. The vision of the sinister officers from ImpSec coming to take those two jokers away, far away, was lovely, but impractical, like shooting mice with a maser cannon. Anyway, where could ImpSec possibly send them that was worse than here?
They'd meant his scat-cat to bog, to be sure, while he serviced the weather station, and for Miles to have the embarrassment of calling the base for heavy equipment to pull it out. Embarrassing, not lethal. They could not have?no one could have?foreseen Miles's inspired safety-conscious precaution with the chain, which was in the final analysis what had almost killed him. At most it was a matter for Service Security, bad enough, or for normal discipline.
He dangled his toes over the side of his bed, one of a row in the empty infirmary, and pushed the last of his food around on his tray. The corpsman wandered in, and glanced at the remains.
"You feeling all right now, sir?"
"Fine," said Miles morosely.
"You, uh, didn't finish your tray."
"I often don't. They always give me too much."
"Yeah, I guess you are pretty, um..." The corpsman made a note on his report panel, leaned over to examine Miles's ears, and bent to inspect his toes, rolling them between practiced fingers. "It doesn't look like you're going to lose any pieces, here. Lucky."
"Do you treat a lot of frostbite?" Or am I the only idiot? Present evidence would suggest it.
"Oh, once the grubs arrive, this place'll be crammed. Frostbite, pneumonia, broken bones, contusions, concussions... gets real lively, come winter. Wall-to-wall moro?unlucky trainees. And a few unlucky instructors, that they take down with 'em." The corpsman stood, and tapped a few more entries on his panel. "I'm afraid I have to mark you as recovered now, sir."
"Afraid?" Miles raised his brows inquiringly.
The corpsman straightened, in the unconscious posture of a man transmitting official bad news. That old they-told-me-to-say-this-it's-not-my-fault look. "You are ordered to report to the base commander's office as soon as I release you, sir."
Miles considered an immediate relapse. No. Better to get the messy parts over with. "Tell me, corpsman, has anyone else ever sunk a scat-cat?"
"Oh, sure. The grubs lose about five or six a season. Plus minor bog-downs. The engineers get real pissed about it. The commandant promised them next time he'd... ahem!" The corpsman lost his voice.
Wonderful, thought Miles. Just great. He could see it coming. It wasn't like he couldn't see it coming.
Copyright © 1990 by Lois McMaster Bujold
Reviews
Images
No alternate cover images currently exist for this novel.