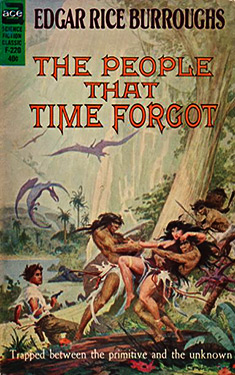 The People That Time Forgot
Synopsis
When Tom Billings set out to rescue Bowen Tyler from the lost continent of Caprona, he equipped himself with all the weaponry the modern world afforded, and a light hydroplane would allow him to scale the perilous wall surrounded the island: Modern Technology and American courage in a battle to the death against dinosaurs, cave-tigers and savage submen -- in Caspak, the land of THE PEOPLE THAT TIME FORGOT. I'll never forget my first impressions of Caspak as I circled in, high over the surrounding cliffs. From the plane I looked down through a mist upon the blurred landscape beneath me...
I could see the surface of the water literally black with creatures of some sort... the general impression was of a vast army of amphibious monsters. The land was almost equally alive with crawling, leaping, running, flying things. It was one of the latter which nearly did it for me.... The first intimation I had of it was the sudden blotting out of the sunlight from above, and as I glanced quickly up, I saw a most terrific creature swooping down upon me. It must have been fully eighty feet long... with an equal spread of wings... It was coming straight down toward the muzzle of the machine-gun and I let it have it right in the breast; but still it came for me.....
This Novel is contained in the collection The Land Time Forgot.
Excerpt
No excerpt currently exists for this novel. Be the first to submit one!

Submit an Excerpt
Reviews
Images
No alternate cover images currently exist for this novel. Be the first to submit one!