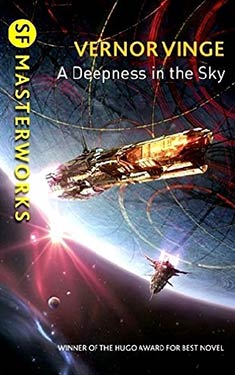 Synopsis
After thousands of years searching, humans stand on the verge of first contact with an alien race. Two human groups: the Qeng Ho, a culture of free traders, and the Emergents, a ruthless society based on the technological enslavement of minds.
The group that opens trade with the aliens will reap unimaginable riches. But first, both groups must wait at the aliens' very doorstep for their strange star to relight and for their planet to reawaken, as it does every tow hundred and fifty years....
Then, following terrible treachery, the Qeng Ho must fight for their freedom and for the lives of the unsuspecting innocents on the planet below, while the aliens themselves play a role unsuspected by the Qeng Ho and Emergents alike.
More than just a great science fiction adventure, A Deepness in the Sky is a universal drama of courage, self-discovery, and the redemptive power of love.
Excerpt
ONE
The Qeng Ho fleet was first to arrive at the OnOff star. That might not matter. For the last fifty years of their voyage, they had watched the torch-plumes of the Emergent fleet as it decelerated toward the same destination.
They were strangers, meeting far from either side's home territory. That was nothing new to the traders of the Qeng Ho--though normally the meetings were not so unwelcome, and there was the possibility of trade. Here, well, there was treasure but it did not belong to either side. It lay frozen, waiting to be looted or exploited or developed, depending on one's nature. So far from friends, so far from a social context... so far from witnesses. This was a situation where treachery might be rewarded, and both sides knew it. Qeng Ho and Emergents, the two expeditions, had danced around each other for days, probing for intent and firepower. Agreements were drawn and redrawn, plans were made for joint landings. Yet the Traders had learned precious little of true Emergent intent. And so the Emergents' invitation to dinner was greeted with relief by some and with a silent grinding of teeth by others.
* * *
Trixia Bonsol leaned her shoulder against his, cocked her head so that only he could hear: "So, Ezr. The food tastes okay. Maybe they're not trying to poison us."
"It's bland enough," he murmured back, and tried not to be distracted by her touch. Trixia Bonsol was planet-born, one of the specialist crew. Like most of the Trilanders, she had a streak of overtrustfulness in her makeup; she liked to tease Ezr about his "Trader paranoia."
Ezr's gaze flicked across the tables. Fleet Captain Park had brought one hundred to the banquet, but very few arms-men. The Qeng Ho were seated among nearly as many Emergents. He and Trixia were far from the captain's table. Ezr Vinh, apprentice Trader, and Trixia Bonsol, linguistics postdoc. He assumed the Emergents down here were equally low-ranking. The best Qeng Ho estimate was that the Emergents were strict authoritarians, but Ezr saw no overt marks of rank. Some of the strangers were talkative, and their Nese was easily understandable, scarcely different from the broadcast standard. The pale, heavyset fellow on his left had maintained nonstop chitchat throughout the meal. Ritser Brughel seemed to be a Programmer-at-Arms, though he hadn't recognized the term when Ezr used it. He was full of the schemes they could use in coming years.
"Tas been done often enough afore, dontcha know? Get 'em when they don't know technology--or haven't yet rebuilt it," said Brughel, concentrating most of his efforts away from Ezr, on old Pham Trinli. Brughel seemed to think that apparent age conferred some special authority, not realizing that any older guy down among the juniors must truly be a loser. Ezr didn't mind the being ignored; it gave him an opportunity to observe without distraction. Pham Trinli seemed to enjoy the attention. As one Programmer-at-Arms to another, Trinli tried to top everything the pale, blond fellow said, in the process yielding confidences that made Ezr squirm.
One thing about these Emergents, they were technically competent. They had ramships that traveled fast between the stars; that put them at the top in technical savvy. And this didn't seem to be decadent knowledge. Their signal and computer abilities were as good as the Qeng Ho's--and that, Vinh knew, made Captain Park's security people more nervous than mere Emergent secrecy. The Qeng Ho had culled the golden ages of a hundred civilizations. In other circumstances, the Emergents' competence would have been cause for honest mercantile glee.
Competent, and hardworking too. Ezr looked beyond the tables. Not to ogle, but this place was impressive. The "living quarters" on ramscoop ships were generally laughable. Such ships must have substantial shielding and moderate strength of construction. Even at fractional lightspeed, an interstellar voyage took years, and crew and passengers spent most of that time as corpsicles. Yet the Emergents had thawed many of their people before living space was in place. They had built this habitat and spun it up in less than eight days--even while final orbit corrections were being done. The structure was more than two hundred meters across, a partial ring, and it was all made from materials that had been lugged across twenty light-years.
Inside, there was the beginning of opulence. The overall effect was classicist in some low degree, like early Solar habitats before life-support systems were well understood. The Emergents were masters of fabric and ceramics, though Ezr guessed that bio-arts were nonexistent. The drapes and furniture contrived to disguise the curvature in the floor. The ventilator breeze was soundless and just strong enough to give the impression of limitless airy space. There were no windows, not even spin-corrected views. Where the walls were visible, they were covered with intricate manual artwork (oil paintings?). Their bright colors gleamed even in the half-light. He knew Trixia wanted a closer look at those. Even more than language, she claimed that native art showed the inner heart of a culture.
Vinh looked back at Trixia, gave her a smile. She would see through it, but maybe it fooled the Emergents. Ezr would have given anything to possess the apparent cordiality of Captain Park, up there at the head table, carrying on such an affable conversation with the Emergents' Tomas Nau. You'd think the two were old school buddies. Vinh settled back, listening not for sense but for attitude.
Not all the Emergents were smiling, talkative types. The redhead at the front table, just a few places down from Tomas Nau: She'd been introduced, but Vinh couldn't remember the name. Except for the glint of a silver necklace, the woman was plainly--severely--dressed. She was slender, of indeterminate age. Her red hair might have been a style for the evening, but her unpigmented skin would have been harder to fake. She was exotically beautiful, except for the awkwardness in her bearing, the hard set of her mouth. Her gaze ranged up and down the tables, yet she might as well have been alone. Vinh noticed that their hosts hadn't placed any guest beside her. Trixia often teased Vinh that he was a great womanizer if only in his head. Well, this weird-looking lady would have figured more in Ezr Vinh's nightmares than in any happy fantasy.
Over at the front table, Tomas Nau had come to his feet. The servers stepped back from the tables. A hush fell upon the seated Emergents and all but the most self-absorbed Traders.
"Time for some toasts to friendship between the stars," Ezr muttered. Bonsol elbowed him, her attention pointedly directed at the front table. He felt her stifle a laugh when the Emergent leader actually began with:
"Friends, we are all a long way from home." He swept his arm in a gesture that seemed to take in the spaces beyond the walls of the banquet room. "We've both made potentially serious mistakes. We knew this star system is bizarre." Imagine a star so drastically variable that it nearly turns itself off for 215 years out of every 250. "Over the millennia, astrophysicists of more than one civilization tried to convince their rulers to send an expedition here ways." He stopped, smiled. "Of course, till our era, tas expensively far beyond the Human Realm. Yet now it is the simultaneous object of two human expeditions." There were smiles all around, and the thought What wretched luck. "Of course, there is a reason that made the coincidence likely. Years aback there was no driving need for such an expedition. Now we all have a reason: The race you call the Spiders. Only the third non-human intelligence ever found." And in a planetary system as bleak as this, such life was unlikely to have arisen naturally. The Spiders themselves must be the descendants of starfaring nonhumans--something Humankind had never encountered. It could be the greatest treasure the Qeng Ho had ever found, all the more so because the present Spider civilization had only recently rediscovered radio. They should be as safe and tractable as any fallen human civilization.
Nau gave a self-deprecating chuckle and glanced at Captain Park. "Till recently, I had not realized how perfectly our strengths and weaknesses, our mistakes and insights, complemented each other. You came from much farther away, but in very fast ships already built. We came from nearer, but took the time to bring much more. We both figured most things correctly." Telescope arrays had watched the OnOff star for as long as Humankind had been in space. It had been known for centuries that an Earth-sized planet with life-signature chemistry orbited the star. If OnOff had been a normal star, the planet might have been quite pleasant, not the frozen snowball it was most of the time. There were no other planetary bodies in the OnOff system, and ancient astronomers had confirmed the moonlessness of the single world in the system. No other terrestrial planets, no gas giants, no asteroids... and no cometary cloud. The space around the OnOff star was swept clean. Such would not be surprising near a catastrophic variable, and certainly the OnOff star might have been explosive in the past--but then how did the one world survive? It was one of the mysteries about the place.
All that was known, and planned for. Captain Park's fleet had spent its brief time here in a frantic survey of the system, and in dredging a few kilotonnes of volatiles from the frozen world. In fact, they had found four rocks in the system--asteroids, you might call them, if you were in a generous mood. They were strange things, the largest about two kilometers long. They were solid diamond....
Copyright © 1999 by Vernor Vinge
Reviews
Images
No alternate cover images currently exist for this novel.