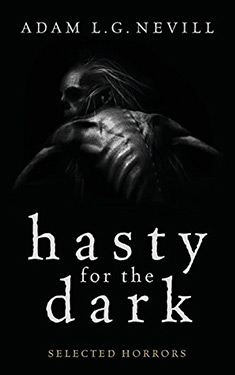 Hasty for the Dark: Selected Horrors
Synopsis
These selected terrors range from the speculative to supernatural horror, encompass the infernal and the occult, and include stories inspired by H. P. Lovecraft, Robert Aickman and Ramsey Campbell.
Hasty for the Dark is the second short story collection from the award-winning and widely appreciated British writer of horror fiction, Adam L. G. Nevill. The author's best horror stories from 2009 to 2015 are collected here for the first time.
The hardest journeys in life and death are taken underground.
No blackmail is as ghastly as extortion from angels.
A swift reckoning often travels in handheld luggage.
Once considered inhumane and now derelict, this zoo may not be as empty as assumed.
A bad marriage, a killer couple, and part of a wider movement.
No sign of life aboard an abandoned freighter, but what is left below deck tells a strange story.
The origin of our species is not what we think.
In destitution, the future for revolution and mass murder is so bright.
Your memories may not be your own, and your life nothing more than a ritual that will compel you to perform an atrocity...
Table of Contents:
On All London Underground Lines - (2010) - short fiction
The Angels of London - (2013) - novelette
Always in Our Hearts - (2013) - short fiction
Eumenides (The Benevolent Ladies) - (2017) - short story
The Days of Our Lives - (2016) - short story
Hippocampus - (2015) - short story
Call the Name - (2015) - short fiction
White Light, White Heat - (2016) - short fiction
Little Black Lamb - (2017) - short story
Excerpt
No excerpt currently exists for this novel. Be the first to submit one!

Submit an Excerpt
Reviews
Images
No alternate cover images currently exist for this novel. Be the first to submit one!