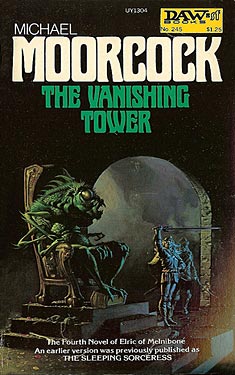 Synopsis
Elric of Melnibone, proud prince of ruins, last lord of a dying race, wanders the lands of the Young Kingdoms in search of the evil sorcerer Theleb K'aarna. His object is revenge. But to achieve this, he must first brave such horrors as...
the Creatures of Chaos,
the freezing wilderness of World's Edge,
the gold-skinned Kelmain hordes,
King Urish the Seven-fingered,
the Burning God,
the Sighing Desert, and
the terrible stone-age men of Pio.
Although Elric holds within him a destiny greater than he could ever know, and controls the hellsword Stormbringer, stealer of souls, his task looks hopeless - until he encounters Myshella, Empress of the Dawn, the sleeping sorceress....
AKA: The Sleeping Soceress
Excerpt
No excerpt currently exists for this novel.
Reviews
Images
No alternate cover images currently exist for this novel.