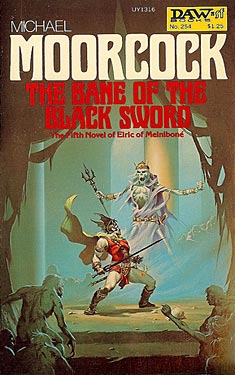 The Bane of the Black Sword
Synopsis
High in the wintry sky climbed the dragons as Elric urged his charges westwards. Thoughts of love, of peace, of vengeance even were lost in that reckless sweeping across glowering skies which hung over that ancient Age of the Young Kingdoms. Elric, proud and disdainful in his knowledge that even his deficient blood was the blood of Sorcerer Kings of Melnibone, became detached.
He had no loyalties then, no friends, and if evil possessed him, then it was a pure and brilliant evil, untainted by human drivings.
High soared the dragons until below them was the heaving black mass, marring the landscape, the fear-driven horde of barbarians who, in their ignorance, had sought to conquer the lands beloved of Elric of Melnibone.
Excerpt
No excerpt currently exists for this novel.
Reviews
Images
No alternate cover images currently exist for this novel.